Courtesy of a pattern created by
DOT MATTHEWS
found here:
http://patternsbydot.blogspot.com/2005/11/bobble-beauty.html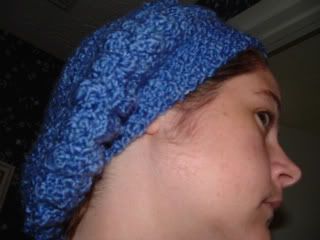 I used Lion Brand Homespun yarn and a size J hook because it seems that I don't own a size K hook. Will have to fix that at some point.
I plan to wear this hat this winter and quite possibly when the family
returns to the MD Renfaire in late Oct to help hide my too short hair.